Jan Reimer (b. 1952)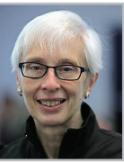 Jan Reimer has dedicated her life to work in the non-profit sector and served two terms as Edmonton's first female mayor in 1989, after three terms as an alderman starting in 1980.
During Reimer's time in office, she pushed for more transparency and public decision-making on council, worked to improve fractured relations with the provincial government, and championed environmental improvements to Edmonton's waste-management system, such as curbside pickup for recyclables, eco-stations and composting. She also worked on numerous city initiatives, such as improving water quality in the North Saskatchewan River, a city economic-development strategy, policies to promote equitable hiring, preserving the river valley and extending its trail system, and establishing the Edmonton Arts Council and Aboriginal Advisory Committee.
Reimer left municipal politics in 1995 and worked for the Alberta Council on Aging. She has worked more than a decade for the Alberta Council of Women's Shelters, which represents more than 40 shelter organizations across the province. As the council's executive director, Reimer regularly speaks publicly about curbing family violence and lobbies for more supports for abused women and children, as well as for shelters and staff working there.
Reimer was part of the Safer Cities Initiative, which the Conference Board of Canada cited as a model for strategic change, and which the United Nations included in the its Global Best Practices 100 List. She served on the steering committee for the premier's roundtable on family violence, which received the Premier's Award of Excellence. She has been involved with the Salvation Army and as a member of the child welfare caseload review committee.
Reimer was recognized as an Edmontonian of the Century in 2004. She has received numerous honours, including a Governor General's Award in 2006, a YWCA Woman of Distinction award, an award from SPARE (Society for the Protection of Architectural Resources in Edmonton), the Queen's Golden Jubilee Medal and the University of Alberta's Alumni Award of Excellence for finding local solutions to global problems.